Submit to the Apps Marketplace
Read this guide to learn the steps you should take before submitting your app to the monday apps marketplace.
Want to submit your app?

For a list of our review standards, see here: App Review Checklist

When you're ready to submit your app, fill out the application form here.
Why submit your app?
After building your monday app, the best way to make it available to other monday.com users is to list it in the apps marketplace. This section lists all the steps and requirements in the app nomination process.
The nomination process is handled by the marketplace review team and allows us to ensure that the apps in the marketplace are secure, deliver concrete value and provide a great experience to our users. With that, as the app developer, it is your responsibility to continuously ensure these standards are fully met, while your app is listed in the marketplace.
What to consider when building your app
We are always on the look for high-quality and valuable apps. Here are some of the considerations we apply when vetting apps. We will be looking for apps that:
Add concrete business value to our users
Adheres to monday.com design guidelines and look and feel.
Can be easily used to configure customer boards
Are built as 'monday apps'. monday apps must implement one or more monday features (integrations, views, widgets) and use our apps infrastructure. The process to create a valid monday app is via monday.com's Developer section: go to Avatar > Developers and hit 'Create App' to start the process. When you are done you would hit the 'Publish' button to generate a valid monday app.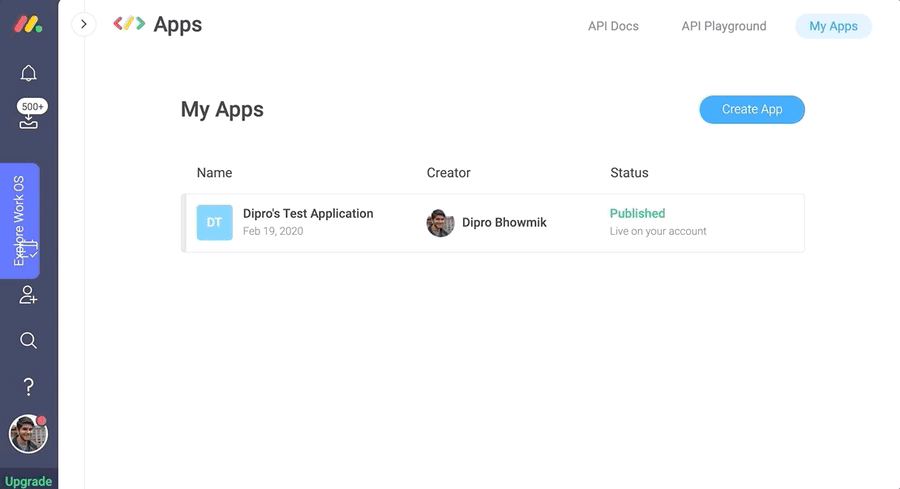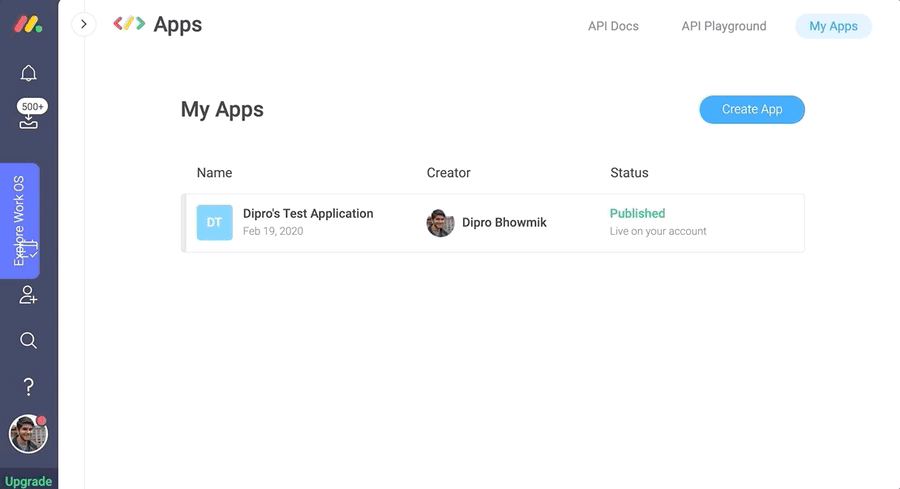 Examples for apps that are not considered monday apps:
Apps that are configured entirely on a non-monday.com website
Apps that cannot be added to a board/dashboard via the views, widgets or integrations centers
Apps that use the monday API without implementing any of the above mentioned app features
Apps that leverage user credentials or any other personal information without getting the user consent
Getting ready to submit your app for review
When your app is ready for the marketplace, here are a few more considerations as you submit it for review:
Carefully review our policies
Before submitting your app, review the following policies:
Prepare your graphical assets
Prepare the relevant graphical assets for your marketplace app page based on our submission guidelines:
App images
App and developer icons
App card image
App video (optional)
New: Dark Mode compatibility
Consider the security of your app
Ensure your app follows the security guidelines as listed in our Marketplace Listing Agreement, including:
Ensure your app uses TLS 1.2 and HSTS with a minimum age of 1 year
Only use permission scopes that your app needs
For a full list of security considerations, check out Addendum 1 in our Marketplace Listing Agreement.
You can read more information about marketplace security here.
Privacy Policy and Guidelines
Follow our privacy guidelines as they appear in the Marketplace Listing Agreement
Provide a link to your privacy policy which will be placed in your marketplace app page
Support channel
Agree to the support SLA as defined in the 'End Users Support' section of the Marketplace Listing Agreement
Provide an active support channel for customers to approach you.
Installation instructions and guides
Make it easy for users to get started with your app, including:
Clear installation instructions
Getting started guide for new users
App documentation
Communication during the review process
Before you submit your app for review, you need to share it with our team. You can do this by opening your app's management page and clicking "Publish". This will generate a shareable link starting with auth.monday.com, which you can include when filling out the submission form.
Our review team conducts the review process via a monday.com board. Shortly after you submit your app for review, a review board will be created for the app and you will be invited to the board to communicate with our review team.
The board will be used to go through the entire review process and after an app is approved, it is onboarded to the marketplace.
To learn more about the app review process, check out this link for a list of criteria that will be used in evaluation.
Checklist: Is my app ready for review?
Make sure your app is a valid monday app.
Have you reviewed and fulfilled all of the considerations listed in the "Getting ready to submit your app for review" section above?
Are you ready to support your future users based on the monday.com marketplace SLA? With the launch of the marketplace, The SLA is 2 business days for responses, but make sure you follow the Marketplace Listing Agreement for the up-to-date SLA.
Congratulations - you are now listed!
Once your app is listed in the marketplace, you will be able to make adjustments to your listing via a similar review board.
---